W e l c o m e

To

Leake County, Mississippi
The Mississippi Genealogy Project
In March and April, 1996, a group of genealogists organized the Kentucky Comprehensive Genealogy Database. The idea was to provide a single entry point for all counties in Kentucky, where collected databases would be stored. In addition, the databases would be indexed and cross-linked, so that even if an individual were found in more than one county, they could be located in the index.
At the same time, volunteers were found who were willing to coordinate the collection of databases and generally oversee the contents of the webpages for other counties around the United States. From that, the USGenWeb Project was born, of which the Mississippi Genealogy Project (MSGenWeb) is a part.
My name is Bruce Reeves and I am the person responsible for Leake County. If you would like to contribute your information to this page, please let me know.
Dancing Rabbit Genealogical & Historical Society Books
In a recent note from the Dancing Rabbit Genealogical & Historical Society, the Leake County Mississippi Tombstone book is available and sells for $65. You can pick it up from the folks in Carthage for that price (plus sales tax), or you can pay another $5.00 for shipping. Books shipped to Mississippi must include $4.90 for Mississippi Sales Tax.
Also newly available is the Leake County, Mississippi Marriage Records Volume 1. This 165 page book covers marriage applications recorded in the Leake County Courthouse Marriage Books A through D dated from 1835 through February 1867. It is a laminated soft-cover spiral bound book. It costs $22.50 plus $5 shipping and books shipped to a Mississippi address should include $1.93 for Mississippi Sales Tax.
You can order either book by sending your payment (check only) to Dancing Rabbit Genealgoical & Historical Society, P.O. Box 166, Carthage, MS 39051.
Your request should include you name, address, email address, and phone number, as well, of course, as your payment.
This would make a great gift for many in our circles.
Do You Know?
Starting a new feature on the Leake County Webpage, this picture was provided by LuAnn Parks who found the original in an attic. If you have any information about the Union League of America in Carthage that you would like to share, please email me.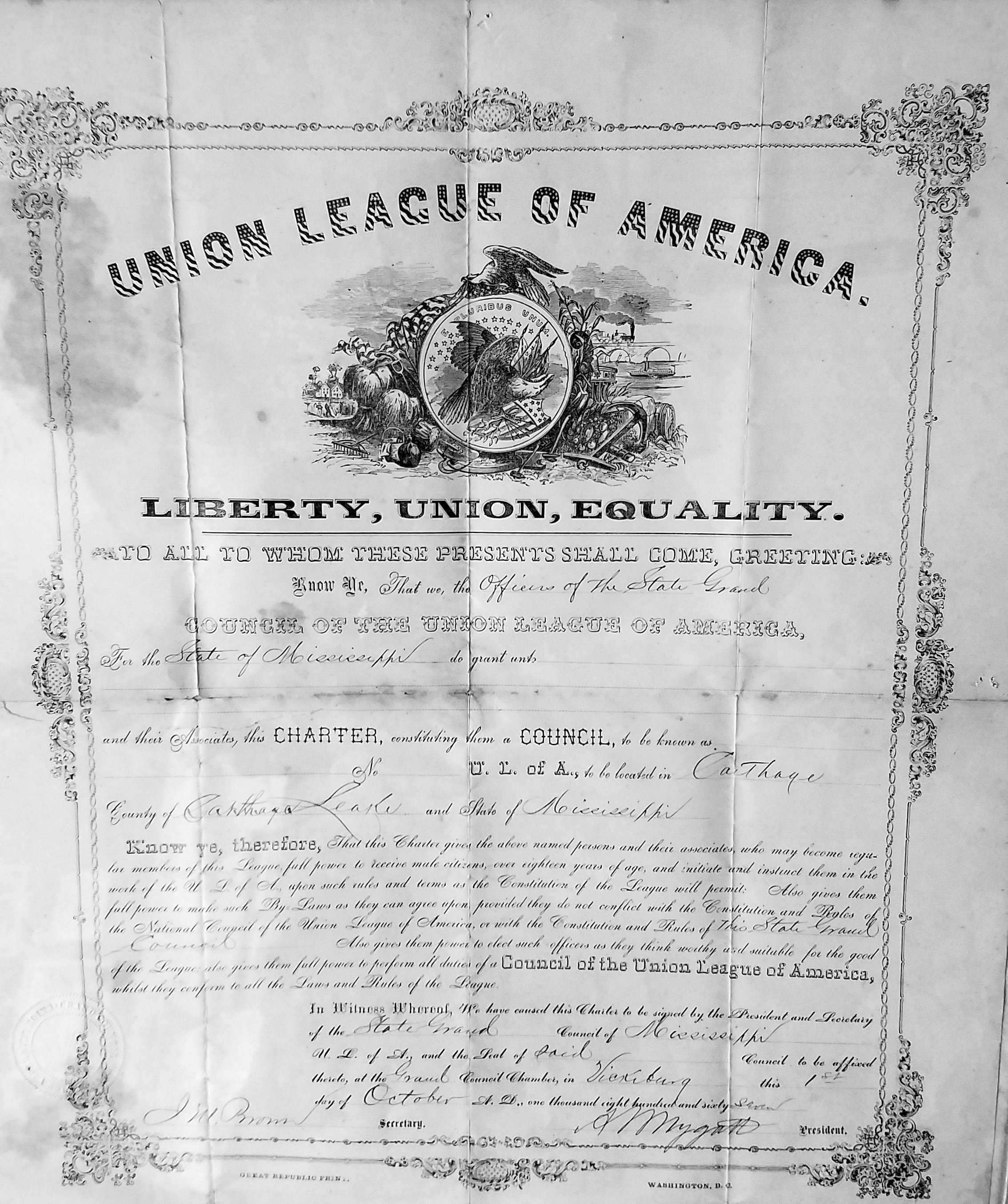 If you have a picture you would like to see in this space, please send it to bruce@bmmr.net.
General County Links | County Family Links |Lookups | History | Cemeteries
Leake County Map - Mississippi Department of Transportation
Found Any Pearls Lately? A Paper on the Pearl River by Bruce Reeves
Joe and Sue Reeves Page - includes genealogy and reunions information
Partial Civil War muster roll of Soldiers in Co. E. 27th Mississippi Infantry.
Educable Children of Leake County Mississippi (years 1850, 1892, and odd years from 1931 through 1957)
Page 4 1853 Census provided by Steven Bridges
Page 12 1853 Census provided by Steven Bridges
Page 13 1853 Census provided by Steven Bridges
1870 Leake County Census on USGenWeb
33rd Mississippi Infantry Regiment
40th Mississippi Infantry Volunteers, Company B
40th Mississippi Infantry Volunteers, Company G
Search MSLEAKE-L archives
Leake County Vital Statistics
1962 Edinburg Class
MsGenWeb Links | Other Mississippi Links
USGenWeb | WorldGenWeb
MSGenWeb Links
Leake County Links
Other Mississippi Links
Other Genealogical Links
Bruce Reeves / 3337 McGowen St / Houston TX 77004
bruce@bmmr.net
©1997-2023 Bruce Reeves
All pages, information there-on including all graphics, for the Leake County, Mississippi, web site are copyrighted, whether marked or not and that copyright is held by Bruce Reeves, unless otherwise indicated. The original MSGenWeb logo (state with magnoilia) was originally created by Ellen Pack (copyright 1997). The license plate MSGenWeb logo (see•kin) is copyrighted 1998 by the Mississippi GenWeb Project and was created by Debbie Gibbons. The map of Leake County used in the Leake County logo is copyrighted as indicated and is used according to their usage guidelines. The fan background used on the pages is NOT copyrighted but is in the public domain.
A couple of notes here. The MSGenWeb requires that this site publish the e-mail addresses of their coordinator Jeff Kemp and assistant-coordinator Denise Wells or assistant-coordinator Ann Geoghegan You can reach either of them by clicking on the appropriate link. They further require that this page publish the current logo. I find it offensive and, as such, am reproducing it here ... just extremely small.


This site was created by

Rainbow Productions, Inc.